Sarnova Earns 2023 Great Place to Work Certification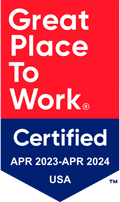 Sarnova, the parent company of Cardio Partners, is pleased to announce that it has earned the 2023 Great Place to Work Certification™ for the third year in a row. The prestigious award is determined by employees' real-time reports of their company culture, and it is based largely on what current employees say about their experience working at a company.
Great Place to Work® provides leaders with valuable insights and real-time feedback through their employee survey platform, enabling them to make informed decisions about their workforce. Their ultimate goal is to make every organization a great place to work for all as they strive toward building a better world.
Cardio Partners' results for 2023 were 6 points higher than last year and 30 points higher than most other companies. These fantastic results have excited everyone within the Sarnova family.
"We are absolutely thrilled about our Great Place to Work 'three-peat!' This kind of recognition is so important in terms of attracting great new talent to our team as well as rewarding and retaining the amazing professionals on our team today," said Jim McGannon, Vice President of Human Resources at Sarnova.
Sarnova's recognition as a Great Place to Work for 2023 demonstrates its commitment to its employees' well-being and success. The certification further solidifies Sarnova's position as a leading provider of health and safety products in the healthcare industry.
The report's results are based on the responses of employees who participated in an anonymous survey. Great Place to Work® is a well-respected organization that specializes in analyzing workplace culture, employee experience, and leadership practices that lead to superior business performance. They have been conducting employee surveys globally since 1992 and have surveyed over 100 million employees. Their surveys have helped them identify trust as a crucial factor that distinguishes great workplaces.
About Great Place to Work
Great Place to Work® is the global authority on workplace culture, employee experience, and leadership behaviors proven to deliver market-leading revenue, employee retention, and increased innovation. The survey results are based upon anonymous responses submitted by employees to an outside entity, Great Place to Work®.
About Sarnova
Sarnova is a leader in health and safety sales and distribution of healthcare products in the emergency medical services (EMS) and acute care markets. The company is a company of Patricia Industries, a part of Investor AB, which makes significant investments in best-in-class companies with strong market positions, brands and corporate cultures.